2018 BMW X2 Fort Lauderdale FL
\
Experience The 2018 BMW X2 at Vista BMW Coconut Creek Near Fort Lauderdale
BMW X2
Compare The 2018 BMW X2 xDrive28i To The 2018 BMW X2 sDrive28i
---
Specifications
ENGINE
Liters/Type
---
Horsepower (hp @ rpm)
---
Torque (lb-ft @ rpm)
---
PERFORMANCE
Acceleration 0 – 60 mph Automatic (sec)
---
Top Speed (mph)
---
FUEL CONSUMPTION
Fuel Tank Capacity (gallons)
---
WHEELS & TIRES
Tire Type
---
Wheel Dimensions (in)
---
Tire Dimensions (mm)
---
BMW X2 xDrive28i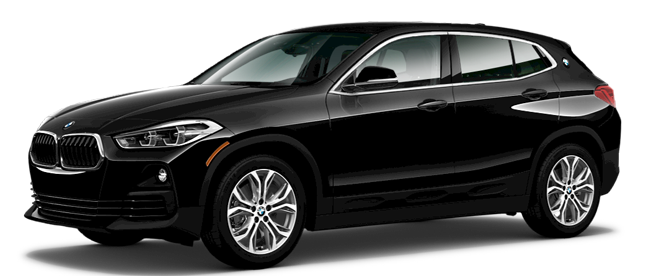 ENGINE Liters/Type 2.0-liter TwinPower Turbo inline 4-cylinder
---
ENGINE Horsepower (hp @ rpm) 228 @ 5000 – 6000
---
ENGINE Torque (lb-ft @ rpm) 258 @ 1450 – 4500
---
TRANSMISSION Type 8-speed STEPTRONIC automatic transmission with Sport and Manual shift modes
---
DRIVETRAIN Type
xDrive all-wheel-drive system
---
PERFORMANCE Acceleration 0 – 60 mph AUTOMATIC (sec)
6.3
---
PERFORMANCE Top Speed (mph) 131 [143]
---
FUEL CONSUMPTION Fuel Tank Capacity (gallons)
16.1
---
WHEELS & TIRES TIRE TYPE
Run-flat all-season
---
WHEELS & TIRES Wheel Dimensions (in) 18 x 7.5 front and rear
---
WHEELS & TIRES Tire Dimensions (mm) 225/50 front and rear
---
BMW X2 sDrive28i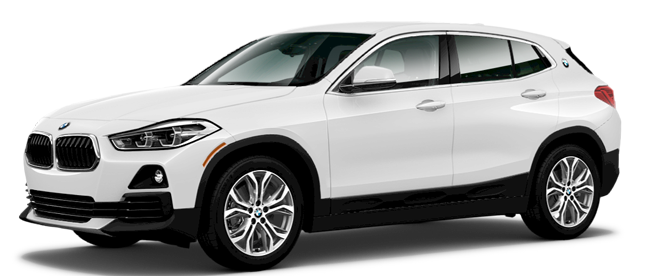 ENGINE Liters/Type 2.0-liter TwinPower Turbo inline 4-cylinder
---
ENGINE Horsepower (hp @ rpm) 228 @ 5000 – 6000
---
ENGINE Torque (lb-ft @ rpm) 258 @ 1450 – 4500
---
TRANSMISSION TYPE 8-speed STEPTRONIC automatic transmission with Sport and Manual shift modes
---
DRIVETRAIN Type
sDrive rear-wheel-drive
---
PERFORMANCE Acceleration 0 – 60 mph AUTOMATIC (sec)
6.6
---
PERFORMANCE Top Speed (mph) 131 [143]
---
FFUEL CONSUMPTION Fuel Tank Capacity (gallons)
16.1
---
WHEELS & TIRES TIRE TYPE
Run-flat all-season
---
WHEELS & TIRES Wheel Dimensions (in) 18 x 7.5 front and rear
---
WHEELS & TIRES Tire Dimensions (mm) 225/50 front and rear
---
The BMW X2 Is Stylish & Useful Inside And Out
The 2018 BMW X2 at Vista BMW Coconut Creek is attractive and practical both inside and out. The exterior has sophisticated touches like LED headlights and taillights, which look good and increase visibility, and a rear spoiler, which is stylish and improves handling.
The new BMW X2 continues this sort of attention to detail in its interior, with ambient lighting that not only illuminates frequently used areas (such as cupholders), it also sets a relaxed mood.
The SensaTec® interior fabric is designed to be comfortable and durable for a perfect blend of both luxury and practicality.
Test-Drive the 2018 BMW X2 today at Vista BMW near Fort Lauderdale and Boca Raton to see its stylish and practical design for yourself.
The BMW X2 Features Breathtaking Performance
The 2018 BMW X2 will show you why BMW's are called the "Ultimate Driving Machines." It features an 4-cylinder engine making 228 horsepower and 258 lb.-ft. A fast and accurate 8- speed automatic transmission helps put this power onto the road.
Experience the performance of the new BMW X2 by test-driving yours today at Vista BMW near Coral Springs and Delray Beach.
The 2018 BMW X2 Exemplifies Automotive Safety
The new BMW X2 is built to provide high levels of occupant protection in the event of an accident. BMW designed a full suite of driver aids to complement the 2018 X2's rugged construction, including Lane Departure Alert, which alerts the driver if they start to drift out of their lane, and Pedestrian Warning, which alerts drivers of pedestrians in the road.
Take the new BMW X2 out for a spin today at Vista BMW near Fort Lauderdale.
The BMW X2 Has A Full Lineup Of Premium Technology
The 2018 BMW X2 has all of the cutting-edge tech that you'd expect from a modern BMW. It features a standard 8.8-inch high-resolution color touchscreen with GPS navigation. The new BMW X2 even has a Wi-Fi hotspot so you can stay connected no matter where you are.
Try out the tech in the 2018 BMW X2 with a test drive at Vista BMW Coconut Creek near Fort Lauderdale, Boca Raton, and Coral Springs today.